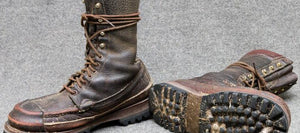 Our Top Hunting Boot Picks for 2020
This week we take a look at what you need to keep your feet warm and dry this hunting season. Let's talk boots!
The Kamik Nationplus Boot
This pair of Kamik boots keep your feet warm, comfortable and dry while you're hunting. The Kamik brand comprehends outrageous weather conditions, so regardless of what conditions your feet will face in the wild outdoors your Kamiks will help keep them safe. In general, these hunting boots are trustworthy, dependable and great at what they are designed to do. We suggest going up a half-size as they will run a bit small.
Why We Like It:
Gum rubber
Laced up
Cold climate protection
Thinsulate insulation
Rustproof
Height: 12 Inches
Material: Leather
Weight: 2lbs
Our Verdict:
These boots fit impeccably and kept us warm and comfortable in the long hours of hunting. With just one layer of socks and in frigid temperatures of 22-30 degrees Fahrenheit we felt super warm.
LOWA Tibet GTX Trekking Boot
These Lowa Tibet GTX Trekking boot is great for any no-nonsense hunters searching for a pair of boots as prepared for adventure as they are. Regardless of whether you're trekking a fair distance to get your prey or you going to hunt off-trail  these Lowa Men's Tibet Boots are the ones for you. Due to the premium nubuck leather uppers of these boots you can take them anywhere.
Also with the addition, of a tough but waterproof and breathable Gore-tex lining your feet will feel supported and comfortable. We likewise enjoyed the PU midsole which gives you lasting foot support at the base which is certainly helpful when you're hauling your equipment around with you for quite a long time. Inside the boot, you'll see a ankle flex design which allows you to walk with ease while still having flexibility in the ankle area.
Why We Like It:
100% leather
Synthetic sole
Laced up hiking boot
Padded tongue and collar
Seamless Gore-tex lining
Height: 13 Inches
Material: Leather
Weight: 2lbs
Our Verdict: 
These boots are an incredible pair of high end quality, lasting hunting boots ideal for anything off path or cross country and even appropriate for scrambling up a mountain top!
Arctic Shield's Neoprene Rubber Boots
Regardless of the whether if you're hoping to take these boots out in mud, in a downpour or on a snowy day, you will easily be able to hunt however long you want in these Arctic Shield's Neoprene Rubber Boots . These boots include a 7mm neoprene rubber and are additionally heat-resistant to hold insulation and return 90% of the body's heat back to you! They're also have lightweight and windproof water-resistant insulation inside which keeps you comfortable regardless of where you are or what condition you're going to confront.
No need to stress over how these boots rate on the fashion scale either because these hunting boots include a functional and never out of date camouflage lining. These boots truly make an excellent Christmas or birthday gift for any hardcore hunter. We're certain your significant other, parent or sibling will be beyond grateful with a gift like these hunting boots.
Why We Like It: 
Camouflage lining
Practical present
7mm Neoprene
Warm
Tough
Height:14 Inches
Material: Neoprene Rubber
Weight: 3.5lbs
Our Verdict: 
The main features we appreciate about this boot was certainly the 7mm neoprene which is joined with the lightweight retain insulation. These features helped us to stay warm and protected in any conditions we wore these boots in.
Hunting Boots Buyer's Guide
There are numerous types of hunting boots available nowadays, so you'll have many  options to research to find the right pair of boots that will keep your feet warm and dry while you hunt. In this guide, we'll touch on the essentials you should know in regards to buying hunting boots that will meet all your needs. For example, how many grams of insulation is best for you and what sort of hunting boots do you need?
You can figure out the answer to both of these questions once you've figured out  where it is that you'll be hunting and what season it will be or what will the elements you have to face will be like. As with any expensive purchase, it's helps to research the topic first because once you've decided on the correct boots for you, you'll certainly want to be getting your money's worth.
The amount of time, energy and risk involved in hunting especially in uneven terrain  which isn't that light then you should ensure you have the best protective footwear on. Picking the correct pair of hunting boots won't just bring you comfort, but also can provide you with beneficial health and safety.
Hunting Boot Types
What's so incredible about the hunting boot industry nowadays, is that you can really pick what kind of boot you need dependent on the activity and environment you will be hunting in. We can't say this enough that it is so essential to have the correct kind of boot and protection when you go hunting. We'll be covering the top  three models of hunting boots here for you:
Field Boots: Field hunting boots are extraordinary for those needing a pair of boots to help them during inland hunting on different terrains and possibly cold weather. However, this boot won't survive your hunting and everything it included if it involves getting wet, the reason is that the field hunting boot is made with leather, mesh which are all non-waterproof materials. These boots do meet an assortment of insulation requirements to suit your weather needs. Generally, the field boot is considered the OG of hunting boots as it's ideal for giving stability and protection on tough terrain.
Rubber Boots: For those hoping to keep their feet as dry as could be expected while they hunt in wet conditions, like for ducks for example. You'll no doubt require a couple of rubber huntings. These boots will assist with not absorbing scents from yourself or others. This is because of the rubber material which doesn't hold onto odor and repels away water. One of the main things you can't do with a rubber boot is take it to a very cold environments, this is because the rubber material does not insolate well and therefore doesn't provide much protection.
Snake Boots: There's a snake in my boot! Kidding!. Snake boots are the hybrid model between the field and rubber boots and therefore can be used in both situations . What makes the snake boot unique is that these boots have more extended collars and are made out of certain special materials which will protect you from toxic snake bites!
How many Grams of Insulation for Hunting Boots?
The correct type of insolation is important when picking a pair of hunting boots due to the fact that your feet should be kept both dry and warm when you're outside for a good amount of time. In order to know how much insolation you will require you will need to figure out how much hunting activities you will be doing and for how long. For instance, 200 grams of insolation is excellent for a mellow day or a evening hunt as long as you stay active during this hunt.
Most hunting boots will have around 400-600 grams; these are excellent for mild to cold days where it will require moderate activity. However, in case you're going some place much colder we certainly suggest getting yourself a pair of boots with around 800 grams.
In case you will hunt in extreme weather, we propose you select 1200 grams, these work well in 30 degrees or less. Be that as it may, if you're going to go hunting in incredibly cold weather, say under 0 degrees than 2000 grams may work best for you.
What is the Difference Between Hiking and Hunting Boots?
Both a hiking boot and a hunting boot will offer you incredible support to help give you stability and traction while you journey through the woods and bumpy terrain. However, there is really a considerable difference between the two. Hunting boots are intended for where you will be wearing them...hunting, this is the reason most offer insulation. In any case, hiking boots are generally made in various weights and it all depends on the needs of a hiker on which they choose.
There are many differences but a main one is, in that hiking boots are just a general type of boot which will support you across rough terrain, whereas hunting boots are made for the weather conditions you will hunt in. For example, you'd need a pair of thin rain boots in case you're in muddy wet areas, however you wouldn't settle for a a pair of rain boots if you were hunting in under 30 degrees.
Although sometimes it might seem like it would make more sense to wear hiking boots as opposed to hunting boots, we would not suggest it as it's important to wear the correct footwear required for your activity. We think you'll agree when see improvements in your hunting game while wearing the correct boots, this is because hunting boots are designed with special weather proof features, insulation and even a camouflage design that you won't get from a hiking boot.
How to get the smell out of Hunting Boots?
You've just spent enough time ensuring you have the best hunting boots and now they're beginning to smell. Don't stress we're here to assist you with getting the smell out so can be your best in your hunting game! Boot feet smell is never good so to keep your boots smelling fresh and not distract you from your hunting game, it is ideal to get them clean.
In all honesty, the most ideal approach to keep your boots fresh and neutralized it is best to use a baking soda concoction. Step one, rinse your boots out with water and dry. Step two, after you've dried your boots place some baking soda inside the boot leaving it to sit for a couple of hours or even overnight depending on how strong the foot odor is. Step three, you can re-wash your boots using normal soap and detergent. Step 4, when your shoes have dried, you can sprinkle more baking soda inside and begin wearing them.
Master Tip
If you want to keep your hunting boots in the best possible condition make sure you always dry them out properly. Leaving boots wet will allow mold and other bacteria to grow. Using products like a PEET Boot Dryer can help dry your boots safely.
Did you know?
The more insulation in your hunting boot the more difficult it will be to walk in them. If you are going to require heavily insulated boots than its important to note you might not be as quick on your feet as you would like so then you might want to opt for a little less insolation.

We hope this helps, happy (warm) hunting!
---